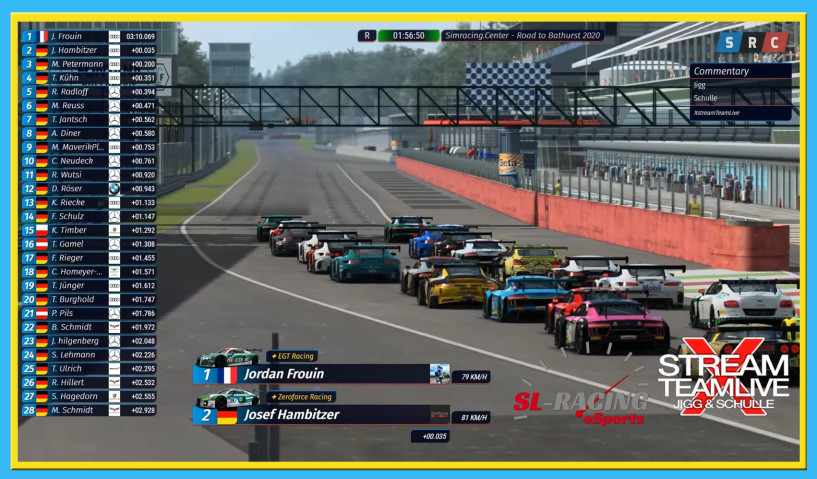 1. Lauf - Road to Bathurst 2020
Der erste Lauf der GTR 3 Road to Bathurst 2020, auf dem legendären Monza Circuit vor den Toren Mailands, ist Geschichte.
Nach knapp 400km, 2 Stunden Fahrzeit und ca. 2300 Schaltvorgänge, plus 10 Liter Körperflüssigkeitsverlust fuhr der Franzose Jordan Frouinals als Sieger durch das Ziel.
Das Rennen wurde geprägt durch viele zwei Kämpfe die im Livestream gefeiert wurden.
Die Podiumsplätze mit Jordan Frouin, Josef Hambitzer und Martin Petermann werden im 2. Lauf mit einem Erfolgsgewicht versehen, so dass es für den 2. Lauf spannend bleibt. Herausragend war auch die Leistung von Sven Lehmann, der gegenüber seinem Ergebnis in der Qualifikation 9 Plätze gut gemacht hat. Ein grosser Dank geht an alle Fahrer, die wie immer eine Top-Leistung gezeigt haben.
Ihr seid einfach Klasse!
Das Rennen könnt ihr euch gern in der Wiederholung bei den Jungs von XStreamTeamLive auf Youtube anschauen.
---
➤ Road to Bathurst 2020 - 1. Lauf - Monza