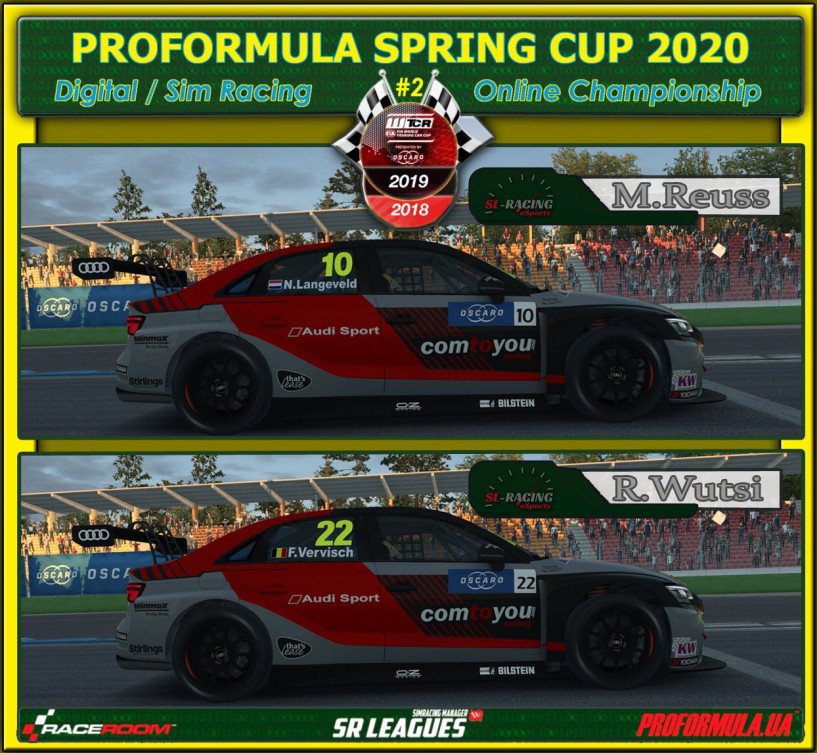 ProFormula Spring Cup 2020
ProFormula Spring Cup 2020 Digital Motor Sport Pre Season Race Raceroom Ukraine
Das SL-Racing eSports Racing Team ist wieder International unterwegs bei unseren Freunden von ProFormula aus der Ukraine. Auf Einladung werden unsere Fahrer Robert Wutsi und Markus Reuss heute Abend am 27.02.2020 am Pre Season Race für den Spring Cup 2020 Teilnehmen. Ein absolut starkes Fahrerfeld mit Piloten aus 8 Nationen sind am Start dieses Events.
Unsere Piloten werden im Audi RS3 LMS 2019 WTCR in Hockenheim an den Start gehen.
Damit geht in diesem Rennen dass komplette Podium der SimRacing.Center WTCR Serie von 2019 mit dem Champion Attila Diner, dem zweiten Zhirayr Gurunyan und dem dritten Markus Reuss an den Start.
Wir freuen uns auf ein spannendes Rennen, der Live Stream aus der Ukraine startet um 19:45 Uhr!
https://www.youtube.com/watch?v=yv0d19ZFibU
Wir wünschen allen Piloten ein erfolgreiches Rennen!
ProFormula Spring Cup 2020 Digital Motor Sport Pre Season Race Raceroom Ukraine
The SL-Racing eSports Racing Team is again on the road internationally with our friends from ProFormula in Ukraine. Upon invitation, our drivers Robert Wutsi and Markus Reuss will take part in the Pre Season Race for the Spring Cup 2020 on February 27, 2020. An absolutely strong driver field with pilots from 8 nations are at the start of this event.
Our drivers will compete in the Audi RS3 LMS 2019 WTCR in Hockenheim.
This is the start of the complete podium of the SimRacing.Center WTCR series from 2019 with the Champion Attila Diner, the second Zhirayr Gurunyan and the third Markus Reuss.
We are looking forward to an exciting race, the live stream from Ukraine starts at 19:45!
https://www.youtube.com/watch?v=yv0d19ZFibU
We wish all pilots a successful race!