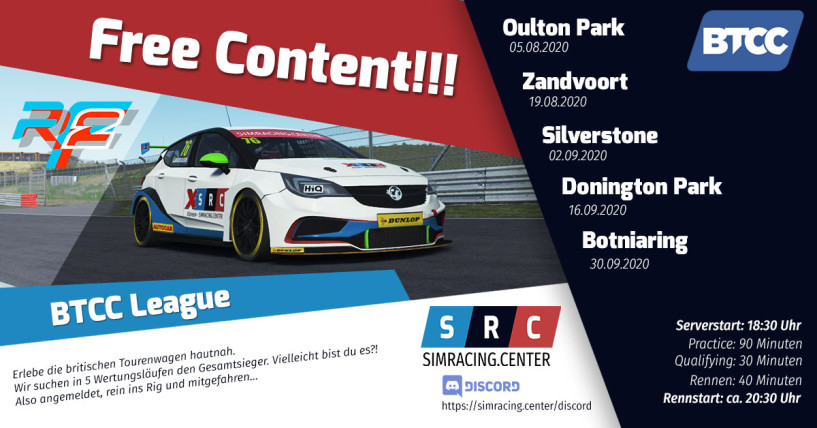 BTCC League by Simracing.Center
Es ist soweit, Simracing.Center richtet seine erste Liga in rFactor2 aus!
Wir bringen euch den Charm der britischen Tourenwagen direkt nach Hause. Dank des komplett überarbeiteten Mods vom "NEXT Generation Mod Team", können wir ein einzigartiges Fahrgefühl genießen.
The British Touring Car Championship is one of the best-loved, most illustrious and famous motor racing championships in the world. Only Formula 1 and America's NASCAR stock car series have longer histories – since its inception in 1958 it has attracted and captivated millions of fans around the world.
Die Veranstaltungen finden ab Mittwoch dem 05.08. alle 2 Wochen statt, gestartet wird um 21:00 Uhr MESZ. 3 der 5 Strecken werden auch in der echten Serie gefahren, was zu einem noch besseren Erlebnis führt.
Für jedes Event wird ein Trainingsserver bereitgestellt, um sich bestmöglich auf die Rennen vorbereiten zu können.
Somit ist Spannung pur garantiert.
In 30 minütigen Qualifyings wird die Startaufstellung, der 40 Minuten dauernden Rennen, festgelegt.
Bei einem Fahrerfeld von bis zu 36 Fahrern, wird es mit Sicherheit den einen oder anderen Rad-an-Rad Zweikampf geben.
Der Rennkalender:
05.08.2020 - Oulton Park
19.08.2020 - Zandvoort
02.09.2020 - Silverstone
16.09.2020 - Donington Park
30.09.2020 - Botniaring
Simracing.Center wünscht allen Fahrern viel Erfolg und jede Menge Spaß!
Hier gehts zur Anmeldung.